What is radd3?
Virtual Reality Application Development
Radd3 is a VR and AR application development company, venture-backed by HTC and Presence Capital. Our mission is to make sports training applications that are easy-to-adopt, easy-to-use, and practical.
In the press
In coordination with Super Bowl 50 at Levi's Stadium, TechCrunch partnered with Stanford's Graduate School of Business and the National Football League on 1st & Future, a competition for startups looking to advance the stadium experience, enhance how fans enjoy the game at home and improve the performance and safety of athletes.
Radd3, one of the startups competing in the Tomorrow's Athlete category of the competition, unveiled an early prototype of DimeTime, a realistic and intuitive virtual reality football training system that helps players train in a high-resolution virtual environment with the HTC Vive and Samsung Gear VR headsets.
Unlike other VR training solutions, DimeTime doesn't require extensive video recording setups to be installed on the field. Instead, DimeTime is a true virtual reality solution, converting playbooks into virtual experiences that players can interact with dynamically. CEO Andrew Won says the team can convert an entire NFL playbook into VR content in less than a week. Read more.
Matt Williams' Swing Data
Virtual Reality Baseball Training Application
Virtual Reality Football Training Application
CORE LOOP

1. Create
a play in the Play Creation App, which automatically uploads plays to our secure cloud application where it is always accessible by players and coaching staff.
2. Experience in 3D
instantly. Each play is downloaded and then rendered in virtual reality within seconds of creation, eliminating the time and resources needed to shoot and stitch together 360° videos.
3. Analyze and Learn
by reviewing footage and statistics recorded in the Virtual Reality environment. What decisions did players make? How quickly did they make those decisions? What were the outcomes? This information is quantified and can be automatically reported to coaches through the DimeTime system.
DimeTime's simple and intuitive interface is easy to use. No technical background required.
360º videos call for a full production team to shoot, cut, and stitch. DimeTime simplifies and streamlines the entire process, making it perfect for coaches or teams with limited technical resources.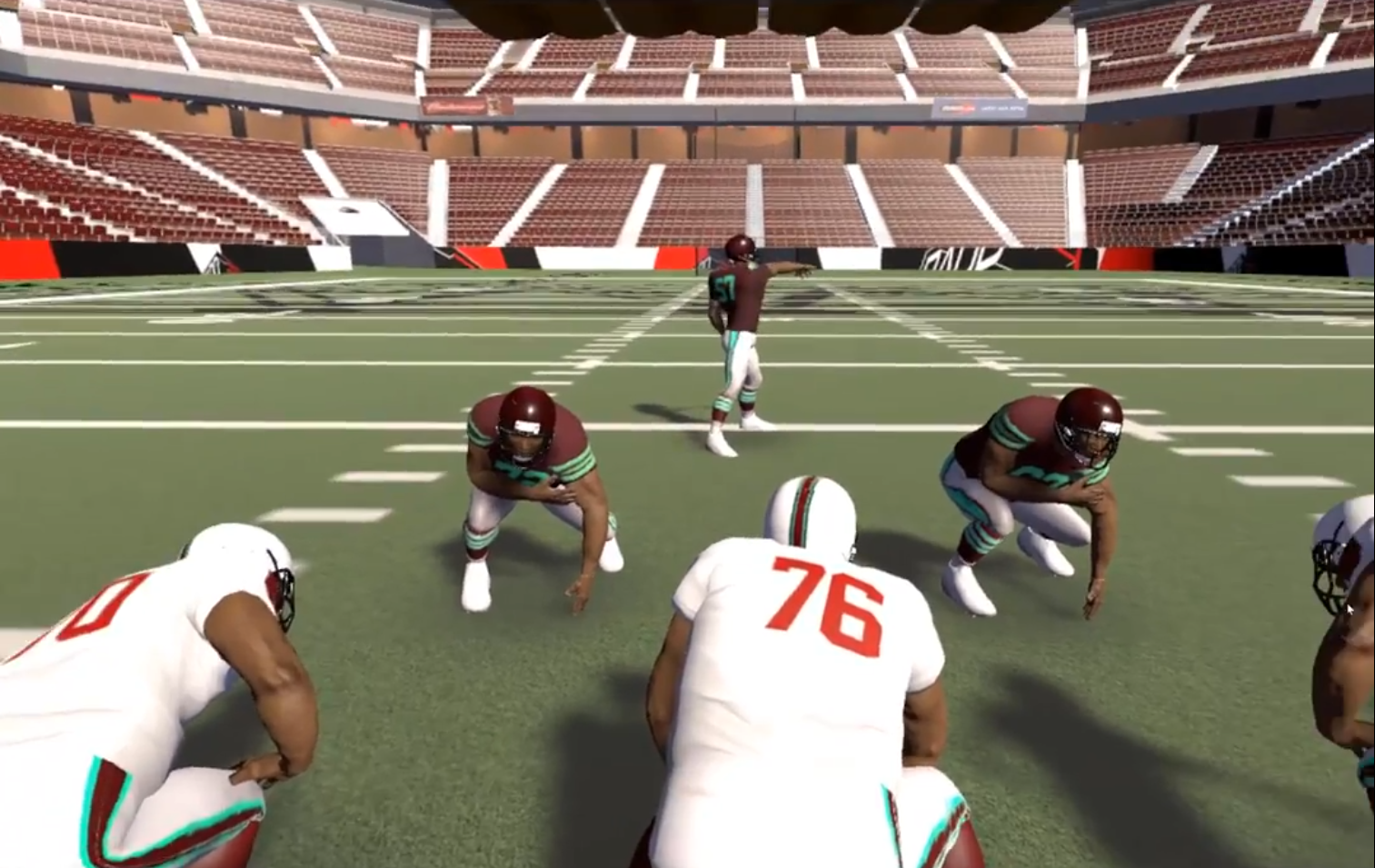 DimeTime is designed to be fully interactive. Players navigate a responsive VR environment that reacts to their behaviors.
VR capabilities far exceed frozen-in-time 360º videos, allowing for the ability to track changes in real time. By reducing the time between review and revision, DimeTime aims to achieve maximum training value.
Our Virtual Reality training system helps users mentally prepare for upcoming games by visualizing football plays and allows users to practice football in 3D VR without risk of injury. DimeTime is designed for usability and efficiency — so coaches and players can optimize practice time and focus on results.
Contact Us
For application development, VR events, and all other inquiries, email andy@radd3.com